5 factors to consider before website redesigning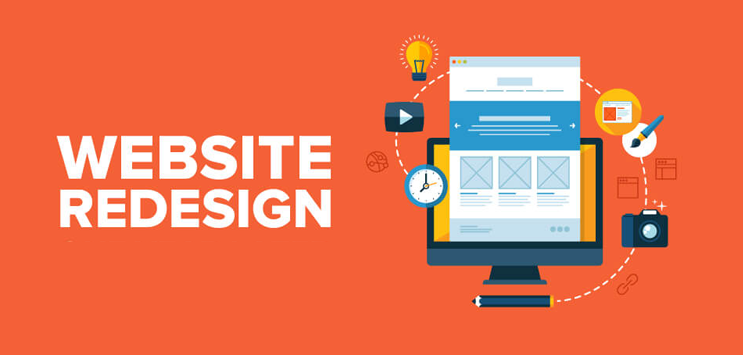 What is Website Redesign?
Website redesigning can be described as the practice of updating website contents, graphics, navigation buttons, and layout. The whole process deals with how your old webpage runs or looks. It also deals with all the things that you want to change and improve on your current site.
The web designer should make sure that all the latest trends and standards are used for a complete overhaul towards the betterment of the website. Usually, users explore about three pages of any website before they decide to stay at it or leave it forever. People doesn't return back, so developer need to redesigned website in order to reduce bounce rates. That way you will provide the best experience for your website visitors.
What are the Benefits of Redesigning Your Website?
The various benefits of redesigning your website are as follow:
You will be able to improve your web page rank through a redesigned website since it is updated with all important information and content.
Ranking in search engines can also be improved by linking your social media profiles to the redesigned website. However, having too many links might affect the ranking negatively which forces you to make a choice between SEO and Social Media or a combination of both.
The more aesthetically appealing websites always get more visitor traffic than less attractive ones. The majority of people like to visit modern-looking sites due to their design and functionality. Users tend not to care about how much effort was put into making an amazing webpage but they would only judge the site based on how it looks like. – A website with many pages, video content, and all other content will support your sales better than a single-page website.
It gives you an opportunity to sell more products while providing information about the items that are sold.
Content is very important in order to get more traffic to your redesigned website. Visitors would only stay longer on your site if it has interesting stuff which can improve their knowledge or hobbies. Without any good content, visitors might leave the moment they point out that there is nothing special about your site until they find one that interests them.
With proper organization of contents, having a redesigned website could help boost search engine rank for specific keywords. It also helps users to find out the information they are looking for quickly without having the need of scrolling down on different pages.
5 factors to consider before website redesigning
The following are just some of the factors that you have to keep in mind before launching a web redesigning project:
1. Examine your current website
You should first determine what's currently wrong with your website before you proceed with making any changes. Look at your current site and think about several things like: "What can be improved?", "Is there anything that I really like?" and "What problems do I face while browsing my site?". Try coming up with an answer through writing down notes or drawing pictures on paper for an easier understanding of your thoughts. After finishing the list, prioritize them in terms of importance so you can consider which one needs more time and effort for the redesign.
Before beginning anything else, it is always best to take an assessment of how well your current website performs. You might think that this is not necessary but it will help you identify the problems with your present website design so as to have solutions for them later on before going into the redesigning phase.
You might consider hiring an expert in this field if you are not sure how to go about it yourself. Also, you can make free website design in 6 steps  using designing templates online.
2. Check out your competitors
It is very important to know and monitor your competition in order to see how much they improved their site over time and what can be added or taken away from yours to make it better than theirs. Take a look at your direct competitor's website and try searching about them on search engine result pages (or SERPs). Find out if there were major changes made to their content so you can cover them up during the development of your redesigned site. There might also be some minor changes that you might not need but are still worth taking into consideration especially when your target audience has different demands and views towards web design just like every other person in this world. The more competitive factors that you can learn from your competitors, the more chances you have to make a great website.
Browse their websites and see what they have in store for their visitors, how easy it is to navigate through their site, the user-friendliness of their website, etc. If they are doing something right, try to employ similar strategies on your own website so that you too may enjoy the same benefits when your web design is overhauled.
3. Maintain your brand
Maintaining brand autonomy is also very important especially when designing a new site. It would be bad if you end up making a completely different look and feel from your current site as this will cause confusion for your customers.
This could lead them to think that there might be an issue with their purchased product since everything doesn't look like what they had expected before. Customers will not tend to purchase anything again if they encounter such a problem. That's why it is important to maintain similarities of design elements: logo, typography, iconography, and color schemes.
Your brand is what defines you and makes you stand apart from all other businesses in your niche or industry. It refers to the reputation that has been built over time by focusing on quality service delivery and customer satisfaction. So before going into the actual website design, make sure that your brand is always reflected in whatever changes you will bring about on your website.
4. Update irrelevant content
Irrelevant content should always be updated. If you have old content, nobody will visit your site except for your existing customers which will result in loss of business. Updating is very important because it gives users the impression that you are active and always ready to help them out with their problems.
You may have been catering to a certain set of users all throughout the years but these days, things are changing so quickly and there can be certain factors that will cause your current user base to shift from old customers to new ones. It is not uncommon for people who have been loyal customers in the past to suddenly stop coming back despite whatever offers or incentives you might be providing them with anymore simply because they no longer find any relevance in your services or products. You have to keep up with the times and update irrelevant content when necessary. This also means updating information that may have become obsolete over the years.
5. Web redesign checklist is required
There are several things that must be considered before redesigning a website like performing an accessibility test.
Make sure, there is no problem regarding the compatibility of every device used by every visitor around the world. It is also vital to check if all links are working properly after. By doing some changes on text size, color, images, and backgrounds, checking up.
If there were any broken tags or images missing from the code, and updating the site map in case there were changes made on the content of each page.
Aside from putting these factors into consideration. You need to make sure that you're using a designing checklist for ensure that no steps are left. Undone for this project because it could have an impact on how people will perceive your brand. Once they see your new and improved website online.
Conclusion
Now that you have examined your current website and checked out your competitors. You should be able to make an educated decision about whether redesigning your website would help your business or not. If it is worthwhile, then the next step is to get started with the design process. After all, what's the point of designing a new website if no one will see it?
When you are finally done with these factors, it is now time to re-designing your website. If you're not sure about this, call web designers who help out with making site look better than ever before. Once you find an effective way to launch the redesigned site, please let us know how it turns out!
Investing in a web designing company like Pixel Street is an excellent way to have your own professional website. With our inexpensive rates, you can enjoy high-quality features without wasting too much time or money! We only take care of every step from initial consultation, custom-designed websites at cost-effective prices which is budget-friendly.  If quickly so contact us today for more information on how investing wisely could help boost business success.