How To Transcribe Audio Fast And For Free?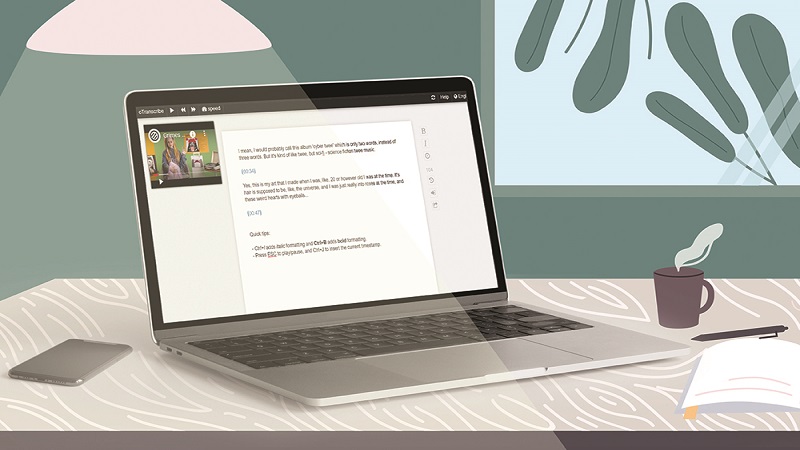 How To Transcribe Audio Fast And For Free?
If you haven't wasted hours transcribing audio—endlessly repeating the same 30 seconds of the recording, cursing people's inability to speak in full sentences, even when there were better websites like crunchytricks.com to do the same —you've never transcribed audio. Or you're a wizard.
What Is Audio Transcription?
Before the advent of modern office equipment, the only way in which audio materials could be transcribed was through a collaborative process between the speaker and the individual who recorded their words. Thomas Edison is credited with creating the first modern recording equipment. His breakthrough sound recording device, known as the phonograph, made a crude recording on a tinfoil disk and allowed playback of the tapes. 
Edison's phonograph mostly captured and recorded the vibrations created by sound waves onto a soft material. The recording could later be translated, with the use of a highly sensitive stylus, back into sound on a speaker.
AUDIO TRANSCRIPTION 
It is the transformation of verbal and audio materials into text. Court reporters, professional secretaries, and web design specialists create audio transcripts as part of their everyday job responsibilities. 
How To Transcribe Audio Files To Text Ourselves?
Setup


The process of transcribing audio or speech to text is not complicated, but we can make it much less efficient if we aren't set up for success. First, give yourself easy access to both the word processor and audio file.

Find Your Shorthand
Some things, like the speakers' names, will regularly recur while we are transcribing the audio record. Make a quick reference of shorthand for these things, which we know we're going to type over and over.
Write What You Hear
This is the most natural part. Listen to your audio file and type what you hear.
Edit Your Text File
Once done with the transcription, take one last listen through the audio file to fix any errors we might have missed. Be careful to check for any titles, references, or context ,we might have missed, primarily if we focused on merely typing what was said, word for word.
Export the Correct File
The file extension we use to save the text file is essential. People who want to keep the text for themselves to edit or share later can save as a .doc file. However, if we plan to use the audio to text transcription for video subtitles

or any other multimedia format, make sure you confirm what kind of file you need.
Why Should We Transcribe Audio to text?
Easy accessibility 

SEO benefits 

Repurposing content 

Get social shares
TOOLS WHICH CAN BE USED:
Audet
Audext is the most effective and easiest way to convert the audio files to text online. It uses machine learning technology, ensuring it adapts to the voice in the audio. As a result, the accuracy is on the higher side. 
Features:    
Online tool

Uses machine learning and AI technology

High accuracy

Supports various audio formats
360Converter
360Converter is an audio-to-text transcribing tool online. We can easily attach the audio and select its format/type and convert it to text. 360Converter offers us reasonable accuracy and quick results.
Features:  
Online tool

Reasonable accuracy

Supports various file formats
Sobolsoft
If we don't mind downloading the software to transcribe audio to text, Sobolsoft is a reasonably good option. We need to download the client on our computer and add the MP3 files that we want to transcribe. Also, it allows us to add multiple MP3 files.
Features:
Suitable for MP3 files

Facilitates easy conversion to text

Easy to monitor the progress
Temi:
A Temi is a speech recognition software that supports audio-to-text conversion. It's an automated software that allows us to convert 5 minutes of speech into text. We can easily edit our files to get the output we want. We can export the output in MS Word, PDF as well as other file formats.
Features:
Multiple export options

Converts 5-minute speech into text

Suitable for noise-free audio files
Braina Pro:
Braina Pro is one of the best audio to text transcription tools out there. The voice to text app has a clean interface. We can transcribe not only the audio files, but also edit them. It uses artificial intelligence to facilitate precise dictation. We need to keep in mind that it's a bit slower compared to other tools. Also, it requires clear audio to transcribe the text accurately.
 Features:  
Uses artificial intelligence

Provides an interface to edit

Multi-Language support
 THE STEP-BY-STEP GUIDE TO VOICE TYPING:
Find a quiet space. 

Plug yourself in.

Open a blank Google Doc. 

Open the Voice Typing tool. 

Ensure the Voice Typing button appears. 

Ensure your microphone is turned on, and your language is set. 

Click the recording button and begin speaking. 

Watch along as you transcribe.