How to build a Food delivery app like Zomato? Business model and essential things to keep in mind.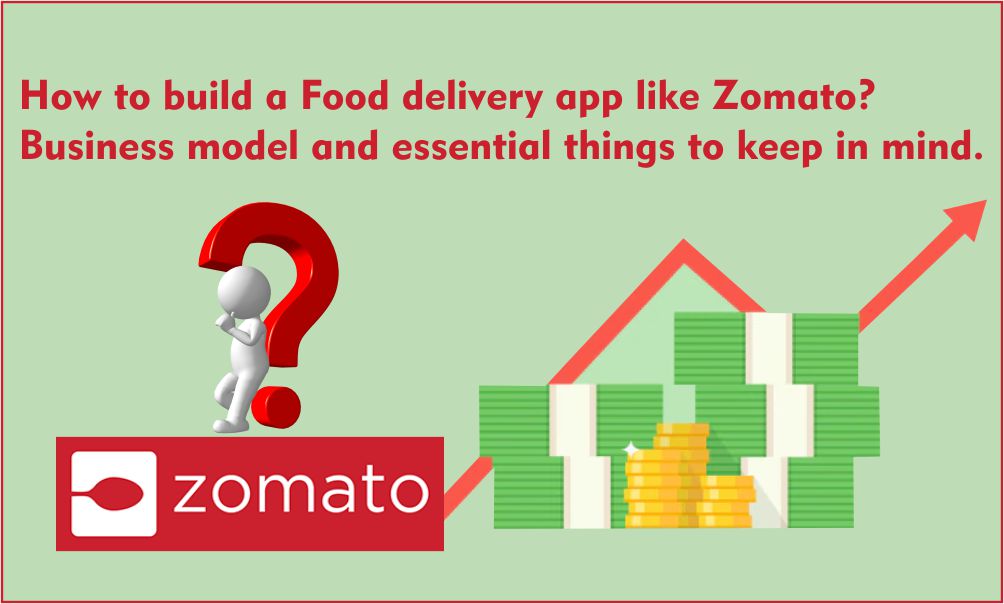 Imagine, after completing a hectic week at work, on Friday calm night, when you reach home and feel hungry. You think to cook something for you but at the same time, you want to not waste time in making food and watch your favorite football game.
In the presence of food delivery app like Zomato, you can actually have relaxed Friday night watching a game. Zomato is the restaurant search and discovery app launched in India in 2008. With the help of Zomato app, a restaurant owner can list photos and menus of their restaurants on the app and people can search those restaurants. Additionally, it has a feature to order the food from the restaurant which will be reached at your place by zomato food delivery partner.
Popularity and financial growth of the Zomato app
From the time Zomato has been launched in India, it has witnessed steady growth. Over time, it gains the popularity in different states of the India. Not only nationally, but tomato has sailed the international market too. In September 2012, Zomato started its services in countries like UAE, SriLanka, Qatar and the UK. In 2013, Zomato made its entry in New Zealand, Turkey, Brazil, and Indonesia. It also acquired the market of the US, Australia, and Canada.
If you ask about the reason for these much of global expansion, then the reasons are very common. First is, of course, popularity among the users and second funds. During those three years of 2010 -2013, Zomato raised total funding of US$16.7 Million. In November 2014, Zomato again got funding of US$60 Million. One year later in Mid 2015, Zomato flooded with the US$50 million of funding. And recently in October 2018, Alibaba group invested $210 Million in Zomato.
Zomato's Vision
Zomato has announced the opening of 30000 sq ft 'Hyperpure' warehouse in Bengaluru which started in August 2018. It sells supplies like vegetables, fruits, meat, dairy, and beverages to restaurants through a technology-driven platform. Within the three months of launch, Hyperpure, Bengaluru grew and started to supply more than 350 restaurants in Bengaluru by November 2018 and they have more than 1000 merchants today. All Supportive Vendors enables it to provide a high-quality product and produce at competitive prices. The food-tech firm has more than 100 suppliers in the system.
Zomato has plans to open such hyper-pure warehouses in Delhi and other nine cities by the end of 2019. It also plans to expand to international markets eventually.
This is an out of the box idea and one of its kind initiatives at a scale that breaks down the supply chain so that fewer people are involved and the work is done more efficiently. The founder of Hyper-pure, Dhruv Sawhney said that they aim at reducing the food wastage. He also mentioned that each ingredient that is stored at Hyper-pure has each little details right from which farm has it arrived. He also mentioned that in the coming future, the restaurants can tell you where your favorite veggies have from and when they have been harvested.
How food delivery app like zomato works
Everyday activity in the app like Zomato can be done by a major three actors. First is a restaurant owner. Second is the customer and third is the delivery partner. So, the Restaurant owners list their restaurant on the app. Customers search the restaurant and if finds that this restaurant is satisfying his craving, then he orders the food from it. At last, delivery partners are the driver who picks up the food from the restaurant and drops it at the doorstep of the customer.
Business model Zomato follows (You can follow the same)
As a platform provider, Zomato doesn't take any money from the restaurant when the restaurant is listed. But on each order restaurant is getting after listing, Zomato takes 10-12% of the commission. But there is a trick here. Restaurant's commission highly depends on the restaurateur rating. Thus, there is no fixed commission. It varies from restaurant to restaurant. This is how zomato is always keeping money in its pocket.
Adverting is a very common way to maximize revenue. By allowing other businesses to add they're a relevant product on your application, in the form of an ad, you will get paid a great amount of money. Also, Zomato allows the restaurant's owner to promote a restaurant. The owner has to pay to make sure his restaurant appear on the landing page of the Zomato app.
Zomato has launched its premier service which is known as zomato gold. People have to pay money to the Zomato to buy this service. With this service, people get to drink and beverages as a compliment while giving an order from the restaurants.
Things to consider while making Zomato like food delivery app
Add different UI for different Actors
As we have discussed earlier, that app like Zomato is having no more than one actor, unlike other apps which are having only admin and the user as actors. Each actor has different tasks to perform. For examples, a restaurant owner should have the ability to manage the listing of his restaurant. A user should have the ability to find and order food. Delivery partner should have the ability to accept the trip. Thus, to make sure features distribution among three different UI is done well, create a Use case diagram and then study the needs.
Feedbacks must have transparency
 We are living in an era where business is highly depended on the reviews does it get on the various online platform. Because people make decisions to invest their time and money after reading other people's review for that particular place. So, while creating an app which is related to the most important service which is food, make sure there is a way which defines that all the reviews customers write are genius.
Make a feature-packed admin panel
 It is important to have featured in the app, but it is also important to have featured in the admin panel. Because the admin panel is the heart of the app from where all app's activity can be managed. There are few features which should be there in the admin panel. Analytic is the features which help admin to understand how does his app is performing and how are the steps he should take to get more audience. Apart from this, features like comprehensive user management must be there. With this feature, admin can add or delete the user's profile.
Final words:
Building a Zomato like app requires minimum 900-1000 hours depending on which features you choose for your personalized app.
According to App store rules, building an exact copy of Zomato would not get you much audience. Our research team can help you in deciding the innovative features for your food delivery app to make your business stand out.
Get in touch with us to discuss in detail the business design and modules of your food delivery app. Our trusted research team will be happy to solve all your queries and get you the best ideas to widen your customer base.
About the author:
Vishal Virani is an Author and CEO of Coruscate Solutions, a leading mobile app development company. His companies have a team of expert's developers whose expertise is to build Food Delivery app and Zomato clone app. He enjoys writing about the vital role of mobile applications for custom web development and different industries, the latest technology trends.