Mobile App Development Company – How to Hire the Best One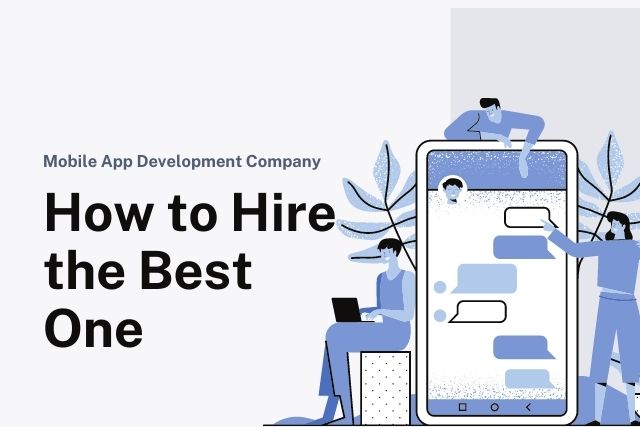 Having a customized mobile app is imperative in today's mobile-driven market. Mobile apps are becoming an integral part of almost each and every business. Various industries have already benefited by building Mobile applications for their brands. When organizations have an online presence, it is pretty convenient for them to boost their revenue.
If you want customized mobile app development, you need to search for a top-notch mobile app development company. But when there are plenty of options to choose from, you might get confused about which to prefer.
It is a daunting task to find a technology partner that acknowledges your long-term goals, vision, has the technical expertise, and delivers a comprehensive app with advanced features. So before you choose the right one, try to assess the below-mentioned points. It will make your task easy going to hire the best mobile app development company.
1. Portfolio
The first and foremost thing you need to consider is the company's portfolio. When you analyze the work portfolio, you can discover the company's experience, work quality, past performances, etc. will help make the right decision.
You will get a clear picture of how capable a firm is. You can also visit Clutch, GoodFirms, and AppFutura that list out the best B2B mobile app development companies you might like to review.
You can ask them about the,
List of clients they have worked with previously
List of the best mobile apps they have developed so far
List of references
List of resources and skills
List of technologies they can work upon
2. Technology
If you are looking for android app development, a company that works only on iOS technology will not help you out. So you must check out the number of platforms they are working on.
Today is the era of AI-based chatbots, AR, VR, Blockchain technology, Big data, and cloud platforms. The best development company has expertise in all or one of all the leading-edge, trending technologies. So hire accordingly to be competitive in the digital market.
If you have a plan for cross-platform mobile app development, you should also ask your potential tech partner about that. In the long run, if you want your app to run smoothly on all the platforms, you should also consider that aspect before hiring the right mobile app development company.
3. Development Process
A successful mobile app is a result of a step-by-step development methodology. The right mobile app development agency follow the right approach starting from,
Provide mobile app RFP templates to clients to brief out everything about the app.
Analyze the app idea thoroughly by considering all the development aspects.
Develop wireframes.
Analyze the technical feasibility.
prototyping
Design the user interface.
Write optimized code.
Check quality.
Deploy in the mobile market (Relevant App store).
Support and maintenance of your mobile app.
Assure that the company must follow SDLS to design, develop, and test your mobile app that enhances your app quality.
4. Coding Standards
No matter what technology you choose for your mobile app development project, the development agency has expertise in it. Whether it is Android or iOS, the company needs to be proficient in offering cutting-edge software.
You have to make sure that the mobile app development company leverages the best suitable development frameworks, whether it is for hybrid or native apps.
To assure the ownership right of your mobile app and its coding, you can ask a company to sign a copyright agreement stating that you are the sole owner of the app, source code, design, or any other content.
5.UI/UX
User Interface (UI) and User Experience (UX) play a significant role in the success of a mobile app. An intuitive design says all about the UI and UX standard company has followed. Convenient UI serves user-friendly navigation and helps customers with smooth operating. It ultimately boosts UX.
Better user experience can be the reason to drive more user involvement. Make sure your app development partner provides you the best UI/UX experts.
Try to hire the one that provides design mockups at the time of the proposal. It will help you to assess their expertise and how thoroughly they comprehend your app concept. You can also look at their portfolio to get a good idea about how well they develop UI/UX.
6. Data security
As the usage of mobile apps has increased, mobile device security threats are also at their peak. Various organizations have experienced issues due to poor cybersecurity standards. It results in privacy assault, detail losses, unsafe storage, and volatile deployment. Thus, select the agency that develops apps adhering to all the security standards.
You have to make sure that the company you choose understands the importance of your data and takes all the necessary steps to secure it.
You also have to ensure that they provide multi-layer security to prevent your data from threats such as data leakage, unsecured Wi-FI connection, Phishing attacks, network spoofing, broken cryptography, spyware, etc.
7. Industry & Domain Expertise
Mobile apps these days are certain things for each industry niche. Having a domain specialization aids to discover the gap in requirements, ensures business scope in terms of functionalities, and enables early identification of bugs through testing.
Without precise industry knowledge, bugs in the underlying business rules can stay uncovered at the initial phase and cause problems at the final stage. A mobile app development company that thoroughly acknowledges the domain can determine issues in advance. The detailed know-how of the technical terminology defines the imperfections and design edge case scenarios precisely.
Correct understanding of the business processes helps in better understanding the project needs. So choose your development partner wisely.
8. Communication
Communication is one of the significant aspects you can not overlook while deciding on a mobile app development company to hire. A successful mobile app is a result of how well you have communicated your idea to the developers.
A good app developer should be able to grasp every information you provide. He should be clear and concise in the interactions for the updates or the progress status of the mobile app. So hire developers who are excellent with communication through your preferred language.
You can also ask the previous clients to understand their communication level better.
9. Service Package
Some app development agencies offer you separate services according to your diverse needs. Whereas some agencies offer the whole package of different services.
When you choose separated services, you can adjust the cost accordingly. Whereas in the complete package, you can leverage the advantages of multiple services within a single price tag.
Considering your business model, you can choose among both service patterns. Select a separate service pattern if you require any particular solution. If you want the company to manage everything starting from requirement analysis to deployment, then the all-in-one package suits you the best.
10. Timeline
Timeline is also one of the vital aspects to consider before choosing the right development partner. You have to ask them about the estimated time frame in which they can deliver the project.
Also, ask them about their availability for your project as app development companies keep working on simultaneous projects. Therefore, identify how many other projects they are working on along with yours.
You have to make sure that your project has a team of dedicated developers who works only for you. This way, you can determine whether the company will respond effectively to the upcoming challenges and deliver your project as scheduled or not.
11. Customer Support
Reputed companies know the worth of their valued customers. It always assists its clients over any hurdles and issues regarding their mobile app development project.
If the company doesn't provide you with sound customer support, you are not likely to choose that firm because you would invest your money in that product. So it's pretty essential to check out customer support delivered by the company by asking their previous clients.
12. Budget Efficiency
If a company exists over the years and gets a pretty good reputation worldwide, the price of products and services would be competitive compared to a new start-up firm.
Picking such companies would be a significant choice for you. As mobile apps are often costly, only preeminent companies offer them at an efficient price.
Also, note that the company would not be able to provide you with an accurate quote at the initial stage as work requirements are changing after starting the development process.
Summing Up
To hire the best Mobile Application Development Company amongst all, you have to take an overview in all the aspects like the company's reputation, customer services, smartness, creativity, expertise, cost-effectiveness, etc.
A company's online reputation and its digital work structure can be like a backbone to businesses. Exactly how it would be feasible for your requirements is you need to decide. The above-mentioned points will definitely help you in making an intelligent and sensible decision.