7 Smart Home Remodeling Ideas for Small Homes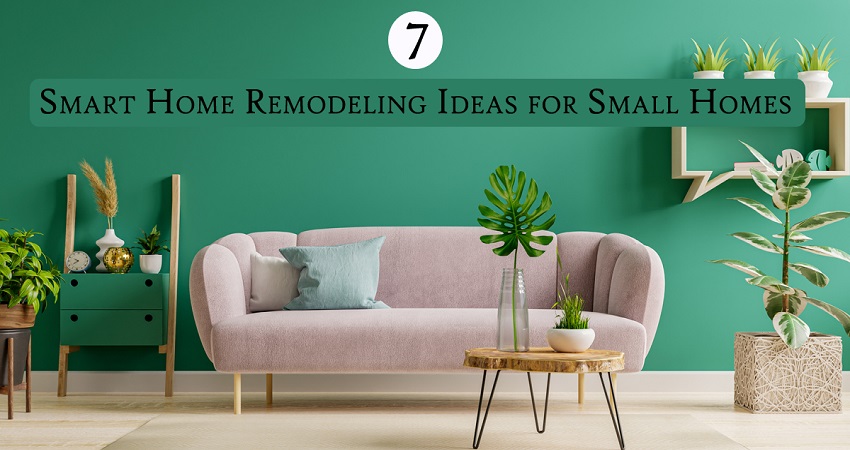 Home Improvement Ideas 2021. best bedroom design for small homes
Everyone needs a smart-looking home and interiors that radiate out-of-the-box thinking. Some need a house to look simple and elegant, without spending much on it. Whereas others spend a lot on making it look rich and magnificent.
Yet in some instances, people feel small homes give a feeling of comfortability and a means of being cheerful.
The best thing about having a tiny home is that they help you think to be creative, do some renovations, and find storage solutions. If you have the idea to remodel or renovate your home, they need a lot of time for pre-planning.
It is up to you to remodel your homes based on your budget or a little bit above the expense to make them look fabulous and cute.
Let us look into certain creative ideas for smart home remodeling ideas for your small homes:
❖      Doing a makeover to make your bedroom closet look elegant
When you feel that the closet you have been using in your room is old and want to make it look different and colorful, your bedroom looks brightened up and elegant. And you can do it on weekends, where you will have a lot of time to do the makeover and always think of creative ideas for making it look aesthetic.
A little of two or three colors of paint or sharp hinges is enough to remodel your closet. To save money, people mostly make smart ideas to makeover their old ones, just like recycling the old ones into new ones that look smart and elegant.
So not only will your closet look different, but also your bedroom will lighten up and be different than it looked before, and will catch the eye of everyone seeing them after the significant changeover.
❖     Regenerate your throw pillow for comfortable seating
The small pillow added to the sofa or the bed adds a glow to the bed design and sofa. This addition does not cost much and is found everywhere in the market with great quality and design, fit for your smart homes.
If you are the person bringing that sewing skill, you can sew a few and develop a few pillows at a low cost that helps in adding value personality for your bed or sofa, wherever you wish to add and design them.
Soft and comfortable rest makes it cozy sitting there for long or lying there for a small nap. Good rest is best for good health, and it is a fact that everyone wants to be in good health.
❖     Redesign a Tree bookshelf for Reader's corner- both adult and children
Adding a shelf in the shape of a tree with little branches depending on the books that you have, will have a smart look to your bedroom or living room.
If you have fewer books and other things meant for keeping on the shelf, you can add them for an elegant look. However, if you want to make the old boring shelf look different, this is an essential part of work that is well appreciated.
There is much shape other than this online for better ideas. You can design them, not necessarily with tools, but you can create them with old bottles, pins, clothes, broken items, and whatnot. Recycling many things helps in giving you renovating ideas in making your old home look new.
❖     Create or buy an elegant tufted bench
Having a small or medium bench not only helps in being useful but also makes your room look extraordinary. You have the choice to build a great beach with wood and topped with soft cushions covered with velvet or printed cloth, or steel with a mattress-like material over or a type that comes to your imagination.
If you don't have great taste in building them yourself, you have various choices online. Many shops where you can have an idea in renovating your old home to make it look fabulous and attractive, and a way of looking smarter and different from others.
❖    Add a room that is used for multi-purpose.
Another smart way of getting your small house to look attractive is to redesign your home with a multi-purpose room. You can do it by doubling the size of your living room to make it a guest room just by replacing a few chairs in there with a comfy couch or converting your futon to a sofa bed.
If you want to work at home in your own space, you can make a little space in your living room as an office room by adding an office-type desk and a few chairs for comfortable seating.
Every house needs protection and security. So after renovating your home with new and creative ideas, you might need a certain system to be protected when dangerous situations happen like the smart home system.
Some smart homes include many technologies like CCTV monitoring, integrated lock-in, syncing and controlling all your devices from your phone, smart home sensors, arlo cameras and so on. One of its parts is called a panic alarm system, making your home modern and fully protective if you have children or seniors who are weak and need to alarm anyone in the house. Or can be used by those who live in distant areas.
Everyone loves a small home and wants to live in it with pure safety and great protection. At home, they might put a system that automatically protects the house from theft, breaking in or anything that could create chaos.
Unnecessary circumstances and disasters give us experience in making us safe and living in a safe environment. Home security solutions are important in a house when renovated as technology in new trends, and newer ideas help people grow and develop.
❖    Decide on a color theme or scheme
Adding a theme color to the walls of your room or whole plays an important role in creating a mood and making the atmosphere look even and positive. It is said that painting it dark in your room can make it look dull and mostly enclosed.
On the other hand, light color makes the rooms look brighter, and rooms look furnishing, fresh and spacious. This also can be added to the ceilings and the floors, which can seem neutral to the colors of your inhouse area.
❖     Adding a large mirror to your room
This idea can be seen in the rooms of small hotels, whenever you have visited. Every room mostly has a large mirror, either one or two of them.
They are perfect for placing in your room not only to look at yourself, but the reflection of the light to the mirror can help make your bedroom look larger and more open than it is. The best place to place this large mirror is on the wall facing the window right away.
Whether it is placed straight or slightly slanted, you just have to make sure a decent amount of sunlight hits on it, making the room lighter and brighter.
Take away
Renovating your home once in four or five years is better in making it look fresh, new, and lasts long, and also in getting adapted to the changing environment. All love to make their house unique and different from that of another. Small and smart house is elegant and is easy to clean and maintain.